Deerfield High School
Class Of 1971
50 Year Reunion Survey
Are you drawing on your inner Warrior during these crazy, scary times? We hope you're safe and well. The planning committee has been hard at work to put together a very specia Golden Anniversary for next fall - 50 long years since our class graduated (whether you graduated or not...you're still in the class).
It will be casual dress (we're calling it come-as-you-are) and it looks like we can keep tickets under $65 a head and still have a swell evening. There may even be a discount for booking early.
Please help us plan by weighing in. Thanks!
From your Planning Committee (some of whom are shown below on a Zoom call)...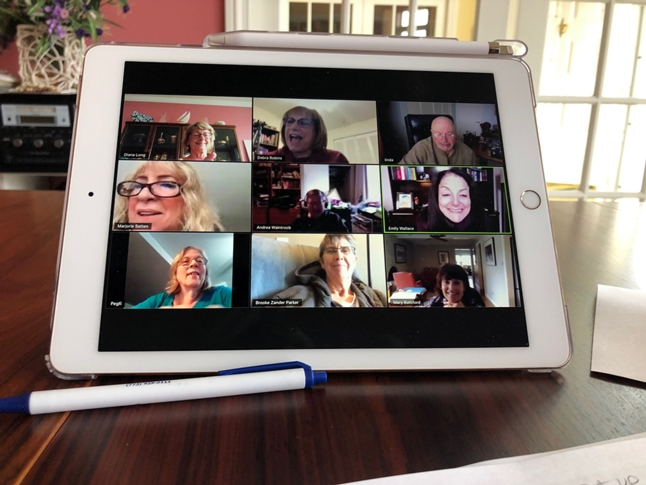 You must be a member to submit this survey. If you are a member please log in first. You can't submit this form until you've logged in.
* Answer Required

1)
* Do you plan to attend the Class of 1971 50-year reunion on October 9, 2021 at the Embassy Suites Northshore in Deerfield?



| | |
| --- | --- |
| | Yes, if there's a vaccine for Covid-19. |

| | |
| --- | --- |
| | I'm not sure at this point, but I'd like to! |
2)
* Once we're through the worst of the Covid-19 pandemic, we'll see what venues are still open and plan for a fun "bar night" on Friday Oct. eighth. Do you plan to attend?



| | |
| --- | --- |
| | I'm in for the bar scene AND the party! |

| | |
| --- | --- |
| | Just the bar night for me, thanks. |

| | |
| --- | --- |
| | Just the party. I don't do bars anymore. |
3)
* Are you interested in a discounted guest room at the Embassy Suites? Rates are $115 for a King Executive Suite and $135 for a Double Double Suite, plus tax. All are 2-room so you could team up with a buddy if you wish. Includes breakfast! Here's the website: https://www.hilton.com/en/hotels/defiles-embassy-suites-chicago-north-shore-deerfield/



| | |
| --- | --- |
| | No thanks, I have other options. |
4)
If you're staying at the Embassy Suites, how many nights?



| | |
| --- | --- |
| | Heck, it's Columbus Day weekend. I'll stay Sunday, too. |
5)
* If you're coming, do you plan to bring a plus one (that's what the kids call a date)?



| | |
| --- | --- |
| | Yes, I plan to bring a plus one. |

| | |
| --- | --- |
| | I told you, I'm not coming! |
6)
* Would you like your address (email, physical or both) to be included in a program book we're making for the event?



| | |
| --- | --- |
| | Yes! I'll email it to djlong5@gmail.com right away! |