Deerfield High School
Class Of 1971
Class of 71 Sports Awards
Thanks to Steve Moroney for sending in this wonderful 1970-71 Sports Awards program. How many of these hunks will be at the October 8, 2022 Reunion?!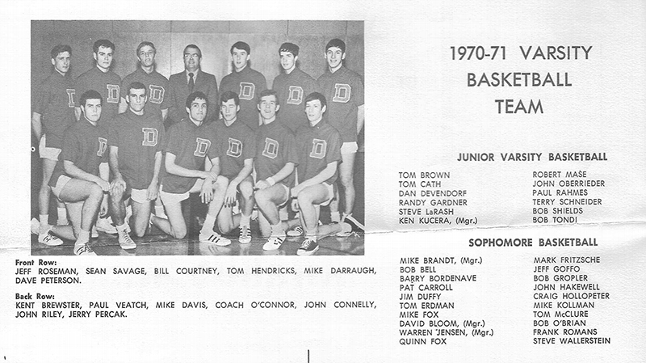 BASKETBALL: 1970-71 was the winningest record in Deerfield basketball history. Most wins, fewest losses, most conference wins, most points in a single game and best won-loss percentage. Not to mention that Sean Savage and John Riley were both named to the Central Suburban All-Conference first team.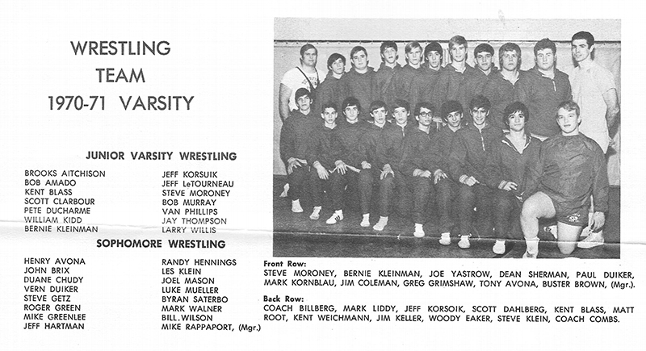 WRESTLING: Led by Jim Keller's 2nd place finish and Jim Coleman's 3rd place effort, the 1971 Warriors compiled 21 points at the Illinois State Wrestling Championships. Mark Kornblau had scored a 1st place at the Sectional meet. The wrestling Warriors finished 3rd place at Conference and the overall season was 8-3.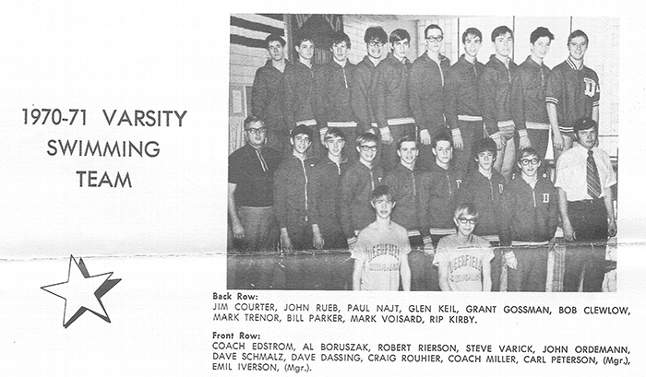 SWIMMING: The varsity swimmers started the season against the top 5 teams in the state. While we lost to New Trier West, we won all the others. In the Conference meet, DHS placed 2nd behind New Trier West by only 4 points. The Warriors won the District Title with eleven qualifying for State.
GYMNASTICS: 1970-71 saw in Deerfield's first boys' gymnastic team. They did a great job all season. At the Conference meet, Webb Schrader on the 4-man varsity team qualified on the horizontal bar and the all-around events.
1969-70 PROGRAM 1971 Classmate Richard (Tad) Lyon dug up this Spring Sports Awards program. It's from June 2, 1970 but our guys were all on Varsity teams. See how many you remember from baseball, track, golf and tennis (Sorry, gridiron Warriors, football was a Fall Awards event).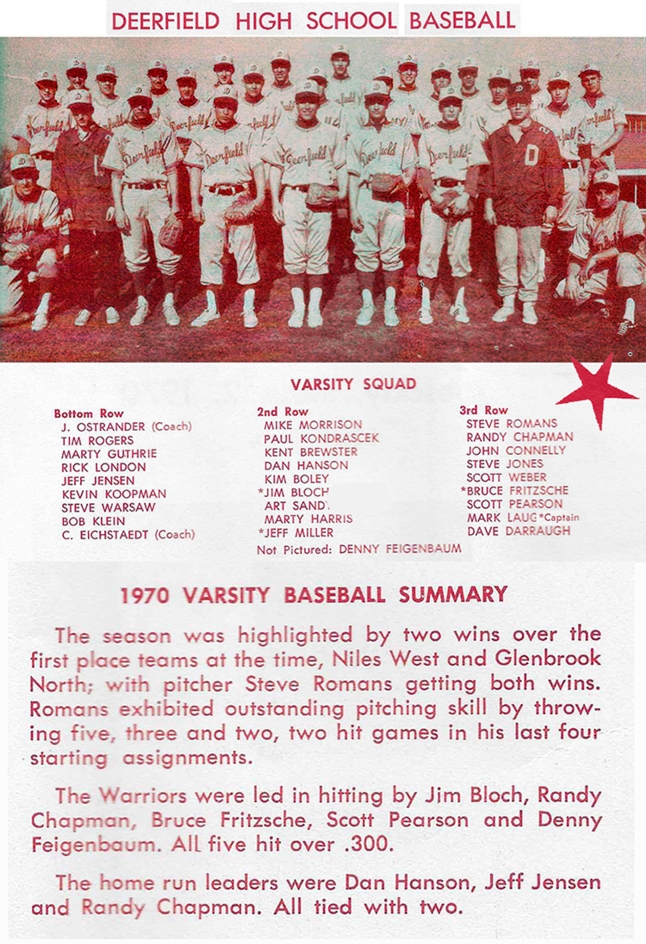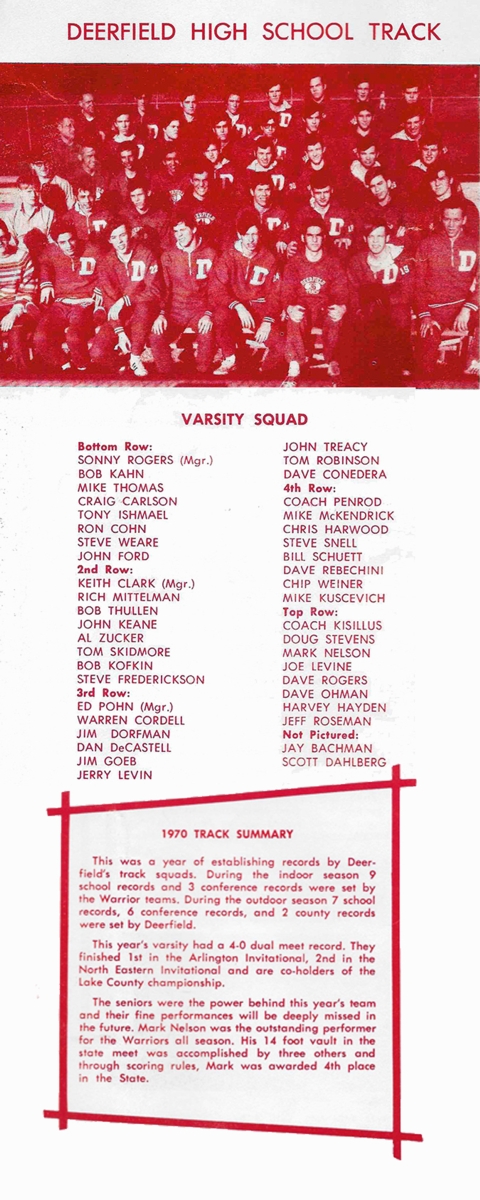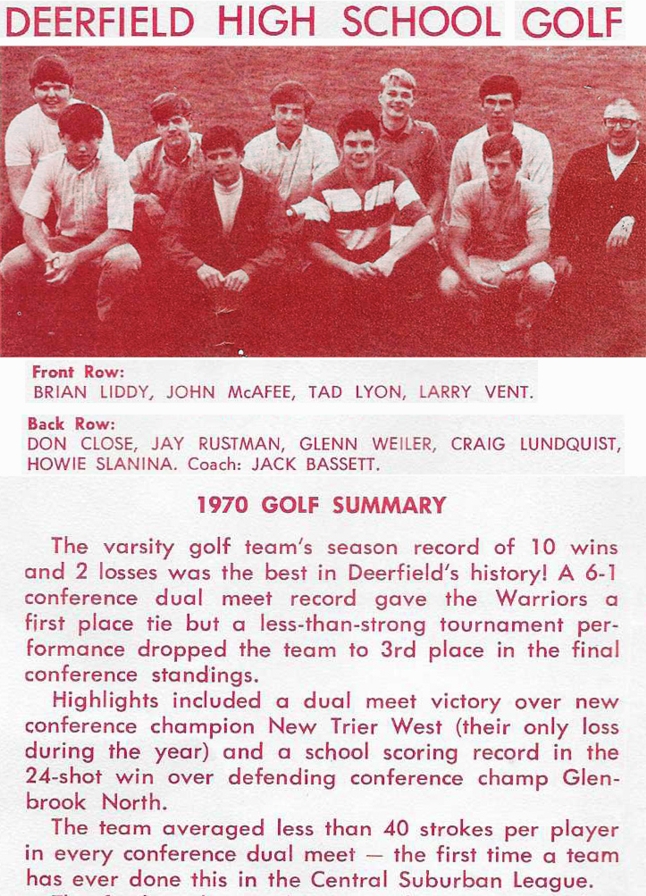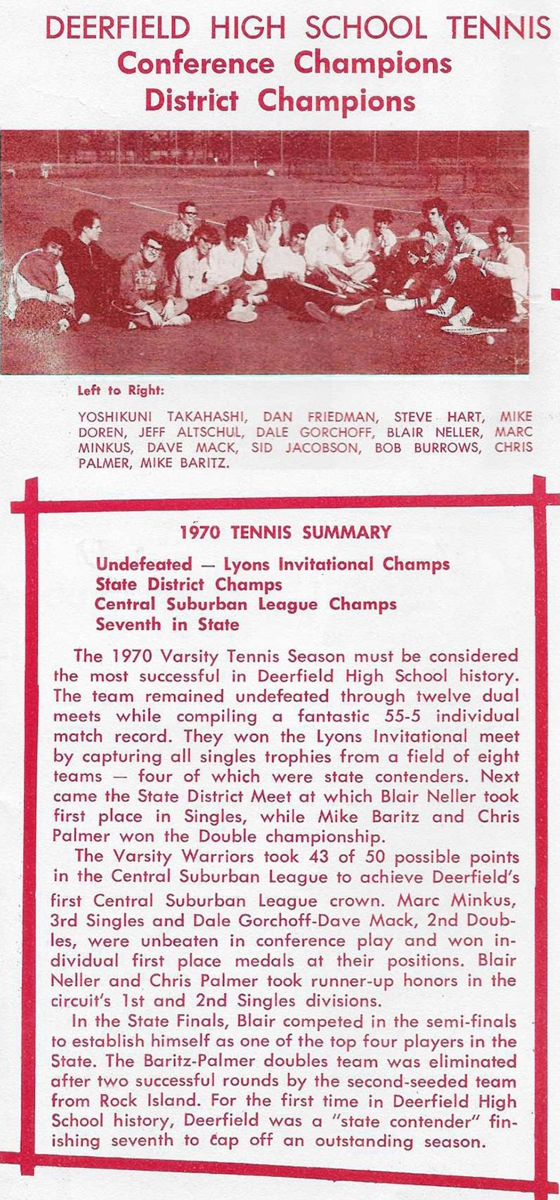 GOT STUFF LIKE THIS AT HOME? Send it to DJ Long, 3 Buckskin Ct., Lemont, IL 60439. I'll scan it and send back to you (include your address). Or digitize and send to djlong5@gmail.com. THANKS!